Hello and welcome to Ron's Beach House!
Take off your shoes and wiggle your toes in my sand! Get yourself a bucket and shovel, and we can make some sand castles!
Here you will find all the things that are related to the beach, one of my favorite places on earth. While you are here, you will find all the things that make it such a special,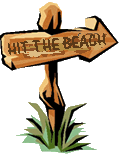 magical place. Because RON'S BEACH HOUSE is on a tropical island, you will also find many tropical-related items of interest. And, you will also find a touch of the Oriental among many of the varied treasures.
While you are here, watch the BEACH PEOPLE, or fight the cobwebs and

poke around in THE BOAT HOUSE for treasures that have been stored away. See the many varied fish in THE AQUARIUM, or stroll thru THE PALM GROVE to check out all the cool ships and boats moored down at THE BOAT DOCK. While you are there, stop by the BEACH BUILDINGS to see all the great lighthouses that we have here on the island.
If you are looking for souvenirs...we have BEACH SHELLS for the taking, along with great BEACH LINES, BEACH BACKGROUNDS, some pretty BEACH PICTURES...and we think, some of the most beautiful BEACH GRAPHICS...help yourself!
Don't forget to stop by the THE CABANA and get your buckets,

shovels, umbrellas, beachballs and all the other gear you will need for your day of fun at the beach.
When it's time for you to relax, stop by THE LANAI, sit on the comfy beach furniture with your friends and have one of those

cute Tropical drinks with a little umbrella and check out my BEACH MUSIC.
So, after your long day at the beach...sit back...put your feet up, listen to the soft ocean breezes rustling the palm fronds, watch the sunset on the horizon change to a romantic tropical moon and just...enjoy...AHHH! LIFE IS GOOD!

If you would like, you can add a banner from RON'S BEACH HOUSE to your homepage. Then everyone will know where you found your great images. At the bottom of each page is the banner link that contains the information to C & P to your homepage.